Holiday Sparkling Wine Sampler - 4 Pack
$150.00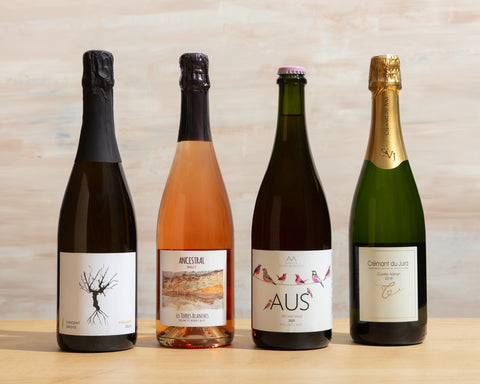 Bubbles are a must-have this holiday season! We've curated a diverse and delicious lineup of rare, organically grown white and rosé bubbly to add some sparkle to your Christmas, Hanukkah and New Year's Eve celebrations. Each Holiday Sparkling Wine Sampler includes one bottle each of these four stellar wine selections.
Vincent Gross Prelude Cremant d'Alsace 2020 - This zero-zero (meaning nothing added, nothing subtracted) Methode Champenoise sparkling wine hails from Alsace in France and is certified organic and certified biodynamic. Comprised of 50% Riesling and 50% Pinot Auxerrois, this is vibrant, linear and citrusy, showing vivid notes of fresh pineapple and zesty pomelo fruit. This very impressive bubbly was aged for 16 months on the lees.
Les Terres Blanches Ancestral Brut Rosé 2020 - This zero-zero (meaning nothing added, nothing subtracted) Methode Ancestral sparkling rosé is made of 100% Cabernet Franc and is certified organic and certified biodynamic. Grown in the southern part of Anjou, in France's Loire Valley, this is fresh and precise with fabulous wild strawberry fruit, mouth-watering acidity and lots of finesse on the palate. Despite being made like a Pet-Nat, this wine is not cloudy due to a special disgorgement method used by the winery wherein they freeze the bottle necks to remove the natural particles.
Familia Pujol-Busquets AUS Pet-Nat Rosé 2021 - This tangy, cloudy, certified organic Pet-Nat Rosé is made of 100% Mataro AKA Monastrell and was grown in the Spanish region of Catalonia on granite soils. Boasting a pretty pink hue and gorgeous wild berry fruit, this has fabulous tension and freshness on the palate. Pet-Nat, shorthand for Petillant Naturel, is made by bottling partially-fermented wine and trapping the natural CO2 that is caused by the fermentation. 
Domaine Eric Thill Cuvee Adrian Cremant de Jura 2018 - This certified organic and certified biodynamic sparkling wine hails from the Jura region of eastern France and is comprised of 100% Chardonnay. Made using Methode Champenoise, this extremely elegant sparkler was aged for 18 months on its lees and was vinified with no added sulfites. Yeasty, complex, sophisticated and ample on the palate, this delivers fresh-baked brioche and spiced pear notes alongside a creamy, luxurious mousse.
Free shipping on all orders