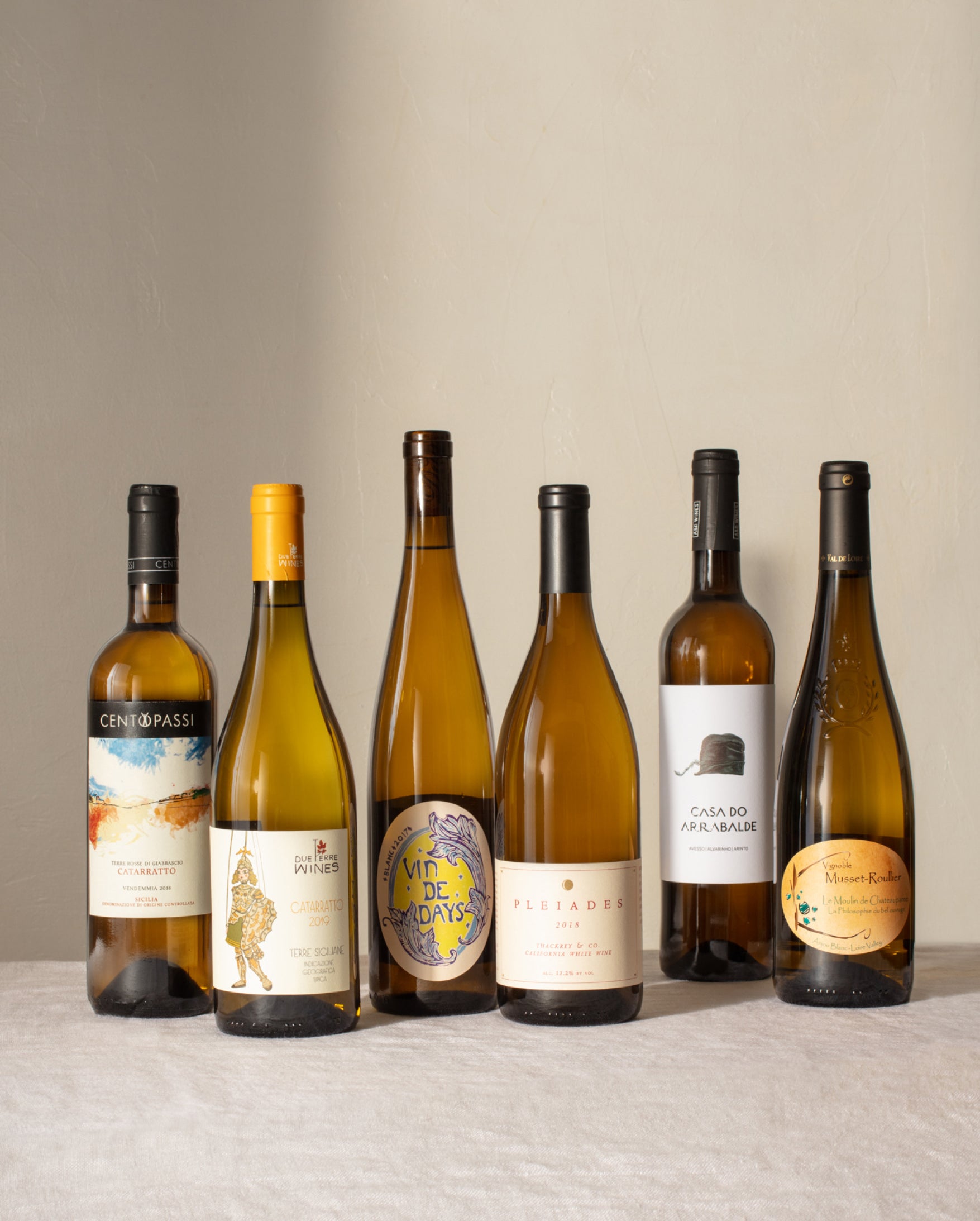 This wine club is consistently rated as one of the highest quality, most fascinating wine clubs designed specifically for white wine drinkers. Ranging from citrusy, mineral styles like Sauvignon Blanc, Assyrtiko, and Catarratto to more aromatic, floral styles like Riesling, Pinot Blanc, and Malvasia, the White Wine Club will give you access to a seasonal lineup of exceptional, small-batch, naturally grown white wines.
+

Distinctive whites from forward-thinking wineries around the world

+

Organic, biodynamic, minimal-intervention winemaking

+

Hard to find grape varieties local to their specific place of origin
GIFT RECIPIENT INFORMATION
This Month's Wines
Take a peek at the eclectic selections from this month's shipment.
Calling all white wine lovers
We curate, you drink!
Discover a custom-tailored selection of classic and cutting-edge organic and biodynamic white wines across the style spectrum.
A singular experience
Broaden your wine horizons with exotic, unfamiliar grape varieties that will transport you to far-off destinations like Sicily and Slovenia.
Sip, learn and cook!
Each subscription includes a free double-hinge corkscrew, detailed tasting notes, a monthly shipment preview video, and expertly chosen recipes from Food52 to pair with your wines.
Makes the perfect gift
This wine club is curated with both novice and sophisticated white wine lovers in mind.
Critically acclaimed by the media as one of the best wine club gift subscriptions, the White Wine Club will expand your gift recipient's palate and introduce them to adventurous indigenous grape varieties like Pecorino and Furmint as well as top-tier, organic and biodynamic examples of classic wines. Know someone who loves to try new, exciting white wines?
Select the gift option above!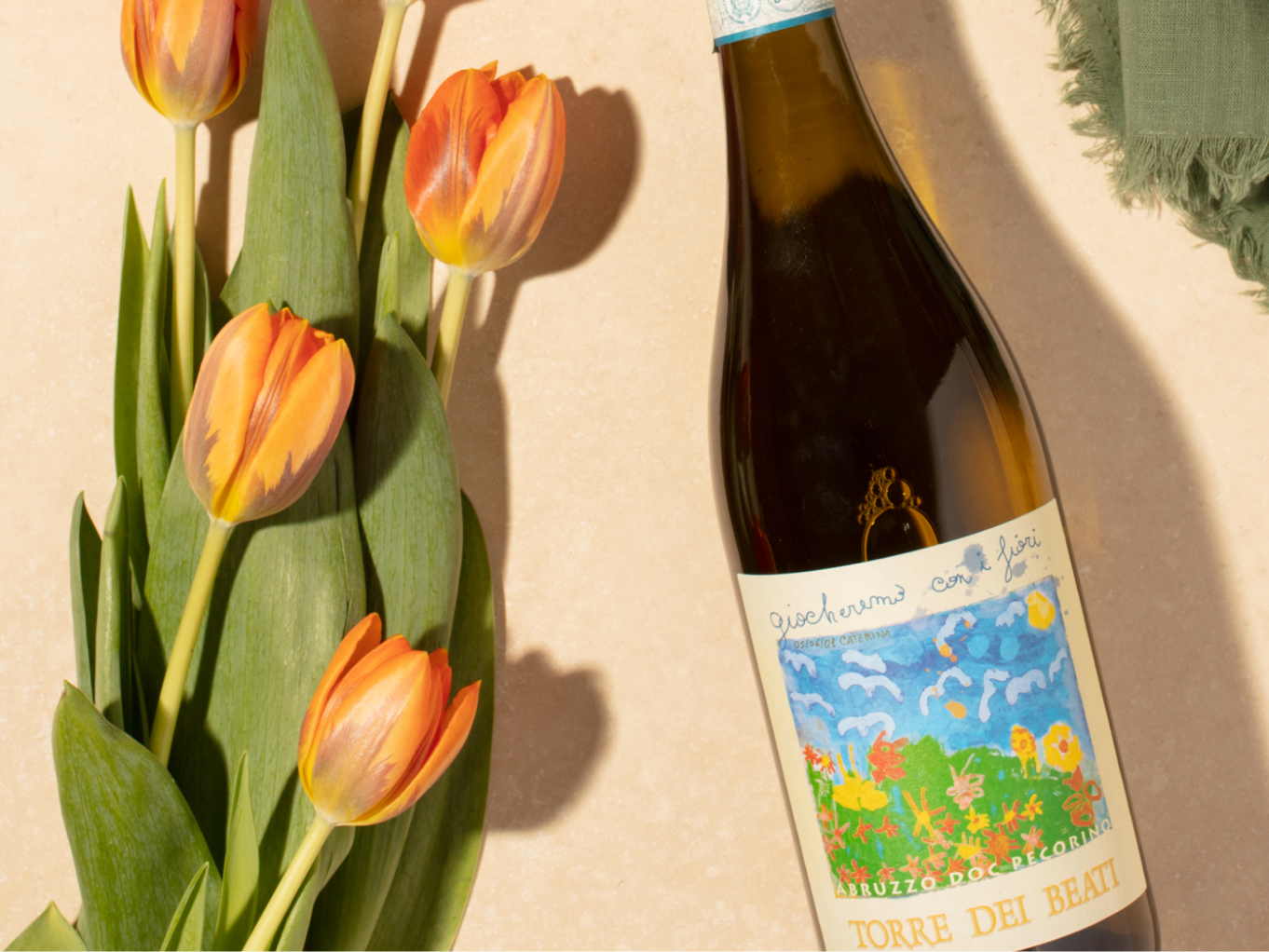 Testimonials
LOVE PLONK!
"I absolutely love this service, and to have the owner respond personally and in a timely manner! The product is the best and I love learning about the wines. I can't emphasize enough how much I love this service!"
Fantastic! Wines are interesting, unique and always delicious
"We've been members of the club for years and we always look forward to our monthly box. The wines are invariably tasty, but also boutique wines that we would never be able to pick up in our local store. Having an expert do the shopping for you is wonderful!"
Impressive Wines!
"Plonk provides a broad geographic range of interesting, unique, and well-priced wines. Impress your friends with a collection of one-of-a-kind wines you can't find at your big box chains."
FAQs
When I purchase a wine club subscription, do I need to select which wines I want to receive?
No! At Plonk Wine Club, we curate and you drink. We act as your personal sommelier and do all the work selecting your wines for you so that you don't need to. Once you purchase a wine club subscription, your shipments will automatically arrive on your or your gift recipient's doorstep in accordance with our monthly shipping schedule.
Do your wine clubs feature multiple/identical bottles of the same wine in each shipment or do I get 4, 6 or 12 different wine selections in each shipment?
Our 4 and 6 bottle shipments feature 4 or 6 different wine selections, with 1 bottle of each wine included in the shipment. Our 12 bottle shipments feature 2 bottles each of 6 different wine selections.
How long do wine club shipments take to arrive?
Shipments may take between three to ten business days to arrive following the ship date. You will receive a shipping confirmation email with tracking information as soon as your wine club shipment goes out.
Can I reroute my package to a new delivery address once it has already been shipped?
Yes! We are happy to change your delivery address once your or your gift recipient's shipment has already been shipped. You will be charged a $20 address change fee to reroute the package to a new address once it is mid-transit. Delivery address changes that are made between shipments are free of charge.
Does my gift recipient need to activate his/her wine club subscription in order to begin receiving shipments?
No! No activation of any kind is required for your gift recipient to begin receiving his/her shipments. Once you purchase a wine club gift subscription, shipments will automatically begin according to our monthly shipping schedule.
How do I update my shipping address, billing address, or credit card information for my wine club subscription?
You can update this information online in your account or you can also contact us for assistance at help@plonkwineclub.com or at 1-877-50-PLONK (75665).