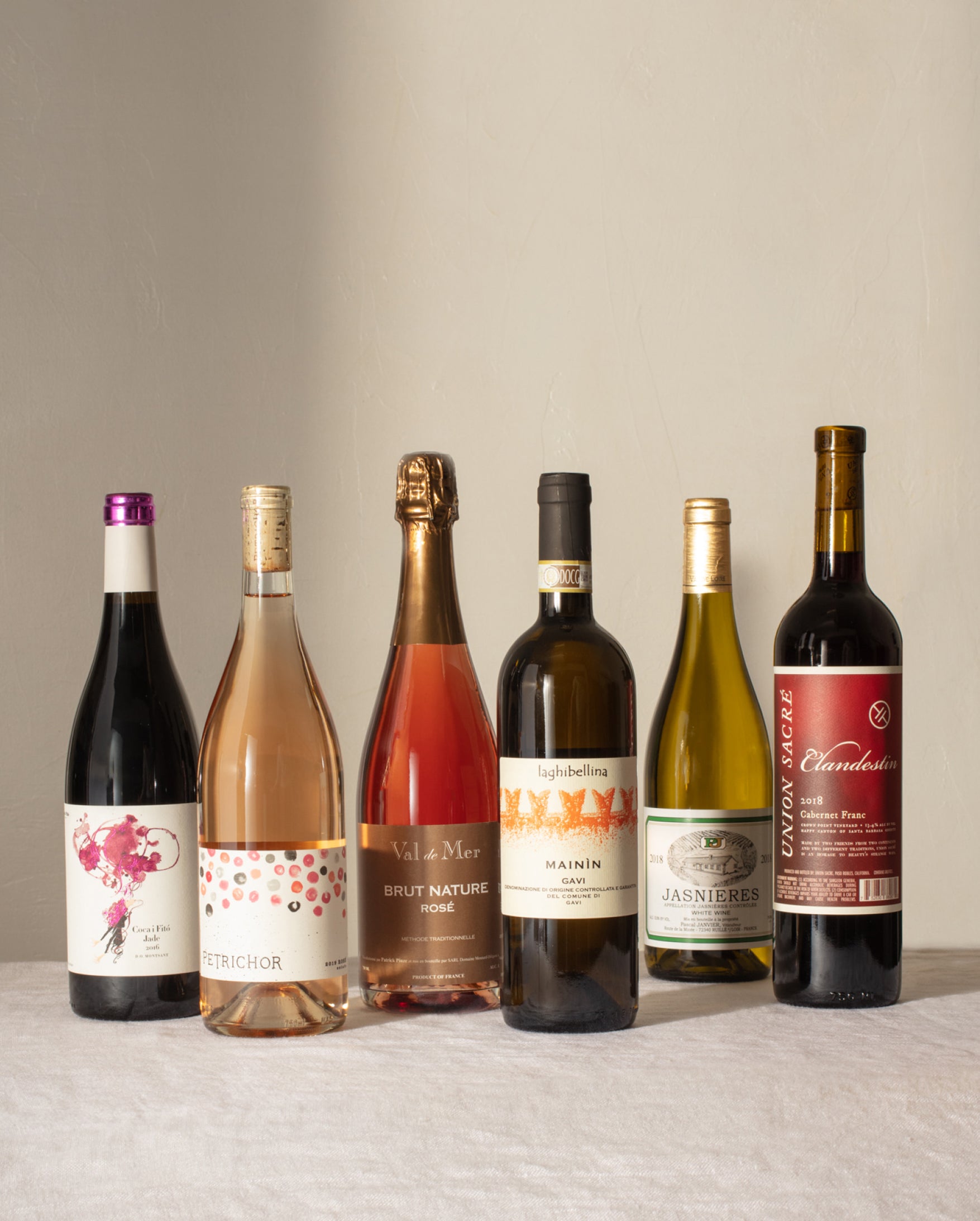 Our most popular, #1 selling wine club designed specifically for intrepid wine drinkers with a thirst for it all. This wine club will introduce you to a wealth of unique surprises including crisp, aromatic whites like Fiano and Treijadura, distinctive reds like Vespolina and Alicante Bouschet, racy, lip-smacking rosé, and elegant, Champagne method sparkling wines. The Mixed Wine Club will give you access to a seasonal lineup of exceptional, small-batch, sustainably grown wines of every hue and flavor profile.
+

Intriguing reds, whites, rosé and bubbly from over 20 domestic and international regions

+

Organic, biodynamic, minimal-intervention winemaking

+

Undiscovered native grapes from lesser-known appellations
GIFT RECIPIENT INFORMATION
This Month's Wines
Take a peek at the eclectic selections from this month's shipment.
Calling all wine enthusiasts
We curate, you drink!
Discover a custom-tailored selection of classic and cutting-edge organic and biodynamic reds, whites, rosé and bubbly across the style spectrum.
A singular experience
Broaden your wine horizons with exotic, unfamiliar grape varieties that will transport you to far-off destinations like Sicily and Slovenia.
Sip, learn and cook!
Each subscription includes a free double-hinge corkscrew, detailed tasting notes, a monthly shipment preview video, and expertly chosen recipes from Food52 to pair with your wines.
Makes the perfect gift
This wine club is curated with both novice and sophisticated wine lovers in mind.
Critically acclaimed by the media as one of the best wine club gift subscriptions, the Mixed Wine Club will expand your gift recipient's palate and introduce them to adventurous indigenous grape varieties like Blaufrankisch and Loureiro as well as top-tier, organic and biodynamic examples of classic wines. Know someone who loves to try new, exciting wines?
Select the gift option above!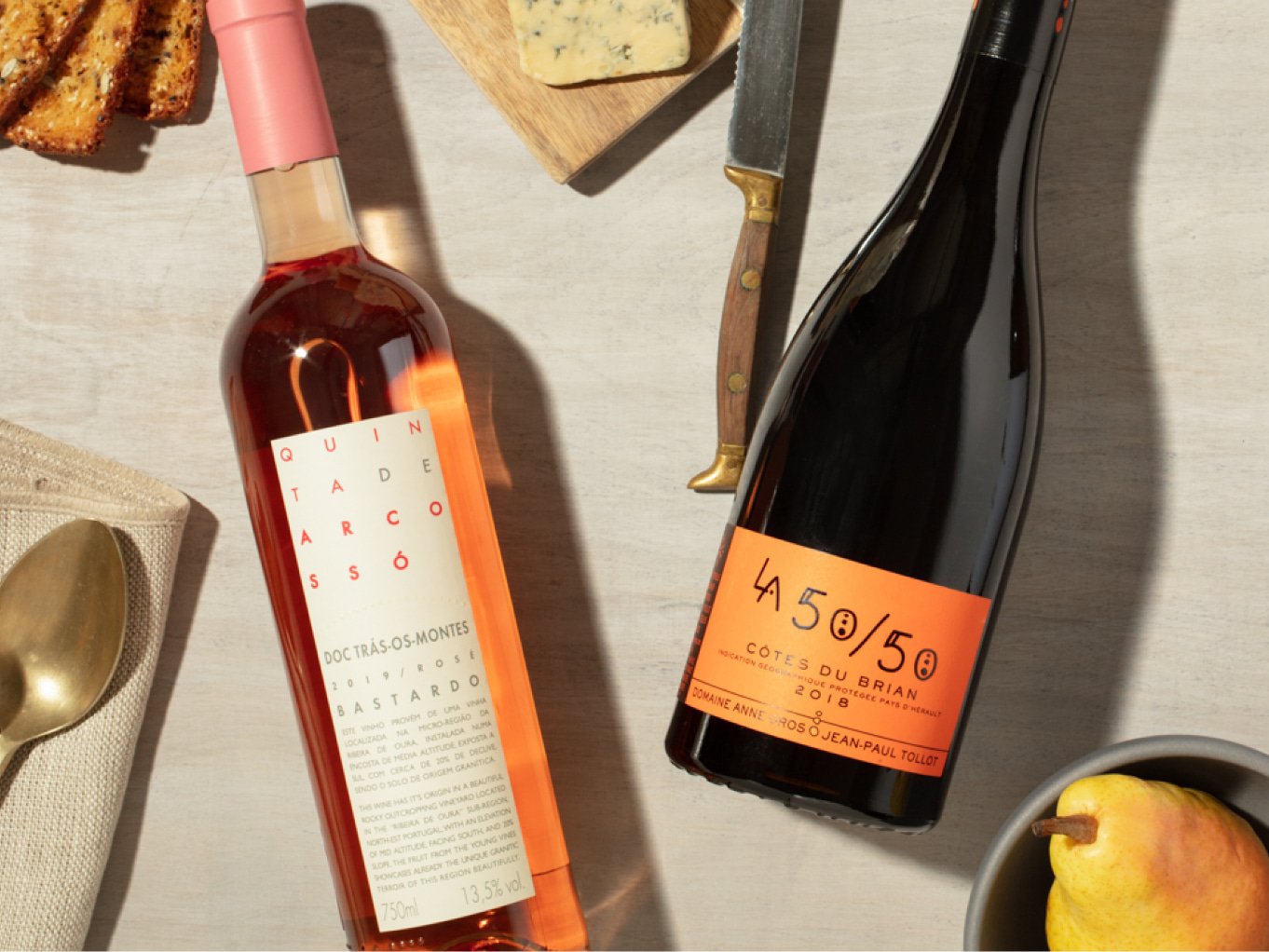 Testimonials
Delicious and great find!
"I absolutely love the Plonk Wine Club! You're able to try new and delicious wines without any of the awkward conversations at the wine store. I love going outside the box, but am always worried that I'll buy something I don't like. This has never been the case with Plonk - everything I've received has been delicious! Not to mention the amazing customer service from Etty and team! Wonderful, Wonderful!"
Favorite Wine Club!
"I have tried several wine clubs over the years and was never that impressed. I'm not sure how I found Plonk, but I'm so happy I did. Each wine is so unique and a first experience for me. I love that they are varieties that are small scale and hard to find. I haven't tried one I haven't liked and I truly look forward to my monthly shipment, whereas in the past, I would cancel my membership after a few months. Thank you!"
Consistently wonderful!
"We look forward to our Plonk shipments every month. The tasting notes really help with choosing what to drink and we have been introduced to some really lovely wines while learning about them as well. Worth every penny!"
FAQs
Does the Mixed Wine Club include half red wines and half white wines?
The Mixed Wine Club includes a rotating seasonal selection of reds, whites, rosé and sparkling wines. We feature dry rosé throughout the spring and summer months and festive sparkling wines for the holidays in December.
What do I do if I receive a bottle that is corked, oxidized, broken or otherwise flawed or damaged?
Please contact us at help@plonkwineclub.com or at 1-877-50-PLONK (75665) and we will replace any flawed or damaged bottles for you free of charge.
How do I renew my wine club subscription once it expires if I select a prepaid subscription for 3, 6 or 12 months?
Instead of renewing your expired subscription, you will want to purchase a new subscription by placing a new order.
Can I skip shipments or pause my wine club subscription if I'm traveling for work, going on vacation, or simply have too much wine?
Yes! You can skip shipments or pause your wine club subscription anytime in your account online or you can also contact us for assistance at help@plonkwineclub.com or at 1-877-50-PLONK (75665).
Do the prepaid wine club subscriptions auto-renew after the 3, 6 or 12 months are complete?
No! Prepaid wine club subscriptions and prepaid gift subscriptions will not auto-renew after the initial term of 3, 6 or 12 months is complete.
How do I cancel my wine club subscription?
You can cancel an ongoing monthly, bimonthly or quarterly wine club subscription anytime in your account online or you can also contact us to cancel at help@plonkwineclub.com or at 1-877-50-PLONK (75665). In order to be excluded from the following month's shipment and to avoid being charged, you will need to cancel up to seven business days prior to the 1st day of the following month. Prepaid wine club subscriptions and prepaid gift subscriptions that have a duration of 3, 6 or 12 months are paid in full at the time of purchase, and are non-refundable final sales.